There are so many ways of looking at a 'new car' project, the single most important one probably is to avoid 'wishful engineering' from the onset. The SEV might be called a blueprint. The three most important aspects are: safety, how the car behaves, will it deliver on its promises. You will find them addressed below. Engineers found no flaws so far. Now it is time to start implementing them. Da Vinci-inspired cylinder-shaped safety cage underneath outer skin. Dual purpose rear cowling: covering the twin wheels and integrating a flush-mounted rear bumper - inspired by the Comanche helicopter.
The front is kept 'neutral' on purpose, so manufacturers may envisage their own trademark frontal designs.
Vehicle dimensions
(approx.)
Length: 149.6 in (380 cm)
Width: 59.0 in (150 cm)
Height: 55.1 in (140 cm)
Weight: 1540 lb (700 kg)
Front track: 53.5 in (136 cm)
Rear track: 15.7 in (40 cm)
Wheelbase: 106.3 in (270 cm)
Load capacity: 660 lb (300 kg)
Economy and the Environment
Engine: May range from turbo-charged 500 cc variable compression or OPOC flat twin up to 1000 cc three-cylinder turbo-charged engine; diesel engine if factory-equipped with particle filter. An electric motor or two smaller (front) wheel hub located motors also possible.
Power: 50-70 hp through the front wheels
Fuel Consumption: 80 – 120 mpg projected average cycle
Emission: 50–90 grams per km (2012 EU criteria are 120 grams per km)
Maximum speed: 90 mph (145 km/h)
Wheels: 140/70 – 19 low rolling resistant tires
Interior materials: 100% recyclable flax fibre-reinforced composite (the EU and the U.S. each have issued their own life cycle directives with regard to materials use)
"Two is a couple. Three is a company." Right: UK version of the SEV, with the driver explicitly seated to the left (click on picture for more details).
Safety
Features such as the driver position, commanding view, innovative seating layout, bulging front fenders, large diameter wheels, protruding waistline and arch-shaped struts (notice the one exposed through the sunroof) all help to enhance the feeling of being protected - which is important if the SEV is to appeal to customers.

The fact is that the SEV would score a not yet existing

NCAP

****** rating, because it succeeds where other small cars would fail. NCAP still has no decent rear impact test!
Body: Streamlined (<0.20 Cw) hull combining low drag, straight-line stability, cross wind resistance and rear down-force for optimum control; may be constructed out of sheet metal or plastics ('C2C up-cycled' or pre-used materials for instance)
Frame: High-strength steel (arch-shaped) struts, cross beams and door sills; choice of material dependent on choice of body material. Left you see an image of what the author has in mind: hoops and arches that run from left to right and from front to back, together forming a rigid frame. Notice the one that determines the New Isetta's shoulder line.
Engine placement: Upfront, low enough to optimize pedestrian safety, minimize body roll and prevent the engine from penetrating the passenger compartment
.
NCAP front impact testing: car crashes at 40ph with 40% of the width of the front striking the car coming from opposite side
Uniquely effective front impact safety:
Large diameter rims assist in spreading the impact around the passenger compartment; the driver is seated to the right (or left in the U.K.) for additional safety in the type of frontal offset collisions; the sleeker the cars the less likely they will hit each other; two airbags
Uniquely effective rear impact safety:
Rear bumper, connected to center boom, will disperse the impact through the frame and by penetrating the front crumple zone of the vehicle that hits the SEV's rear end ("Better not tail gate!"); the rear airbag is deployed only if the rear seat is occupied

.
In fact, Cochran's law firm (yep, that's the same one who defended O.J.Simpson) stated, and I quote, "that the rear impact collision is the most common type of automobile collision with approximately 2.5 million rear impact collisions occurring each year in the U.S. Most of these accidents occur as a result of inattentiveness on the part of the rear-ending driver. One can expect these types of collisions to rise with increased use of cell phones, and other driver distraction features being added to automobiles (....) Did you know that car manufacturers are only required to design rear bumpers to handle a five-mile per hour rear collision? We all know that a significant number of rear impact collisions occur at much greater speeds. Unfortunately, many of today's bumpers are designed more to protect the car rather than the occupants."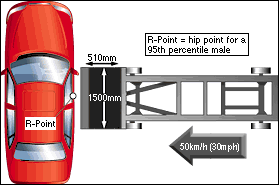 Uniquely effective side impact safety:
S
eating layout allows for plenty leeway to the left and right and prevents passenger heads from slamming onto each other during side-collisions; two curtain airbags
Safety regulations:
The SEV will be (much) safer than any comparably sized cars, including the New Mini. The SEV is not meant to make use of the more lenient safety regulations regarding three-wheeled vehicles.
Torsional rigidity: Contrary to a traditional car body resting on four points (its four wheels), that tends to flex during cornering, having the SEV lean to the left and right on its 'single support' rear suspension means that flex will be minimal.
Exceptional visibilty: Driver (the blue dot below) has 360 degree overview, rear view mirror use included, and is able to communicate eye-to-eye with the two passengers via the rear view mirror. Offset seating essential to the SEV's class-leading passenger safety. Below: two SEVs UK spec (driver to the left).
Suspension
Front wheels:
Multi-link (front drive)
Rear:
Either twin-wheels or single (wide-tire) wheel mounted on single sway bar
Vehicle dynamics:
If there is one thing that needs further research, then it is the issue of a stable ride and predictable rounding of the bends by a three-wheeling Narrow Track Vehicle. What is the 'recipe' so far

for the FWD SEV with the motor in

the front, regardless if it is an IC or electric motor? A combination of (1) a low center of gravity, especially with batteries, (2) control arms at the front changing the wheel geometry (including "Ackerman"), forcing the SEV to lean - angle dependent on steering input (and speed) and (3) G-force dependent active damping. (4) Co-steering rear wheels operated at 25+ mph speeds may (also) be opted for. That should keep body roll in check and prevent the rear from side sweeping. As far as positioning the (modular) battery packs, there should be space for them in the front, between the wheel wells, and on either side of the rear passenger.
Below (right) you see Mercedes' experimental three-wheeler. On the left yet another three-wheeler that leans.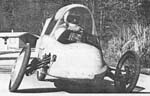 Gear change:
Flappy pedals around steering wheel (no center console)
Driver aid:
Lane detection/assist to enable dual lane use in heavy traffic
Climate control:
Amount of sunlight determines car glass shading; solar cell driven 'top-cooling' (a small unit lowers high temperatures to bearable levels); full climate control optional
Luggage:
Compartment behind the passenger seats that can be folded for additional space and under the front bonnet, on top of the front engine compartment
'SEV as EV' battery pack: one box between the front wheel wells and boxes on either side of the rear passenger
Vehicle category:
In the EU the SEV will qualify as a three-wheeled automobile. Individual governments may grant the SEV preferential treatment because of its ultra-low emission and/or narrow track dimensions. In some countries (or U.S. states) it may be categorized as a (semi three-wheeled) motorcycle allowing single occupant use of the carpool lane.
Obama: "C'mon, Joe wants us to take the SEV out for a spin."
Hillary: "Can I steer?... I wanna steer."
**
Note:
The Space-Efficient Vehicle (SEV) as described here is
not
an open-source project. Taking notice of the SEV's specifics means that the reader understands this and will respect the author's intellectual property rights. The SEV has officially been registered with OAMI, the EU's models and trademarks office. If you happen to be interested in contributing or participating, then contact sevehicle@gmail.com
The author's ultimate goal: mass-producing an affordable SEV.
A number of 150,000 produced/sold annually, at least, based on 1 production facility. Target price: Smart ForTwo +30%. This implies having a major car and/or motorcycle brand in the role of producer. Some companies, like BMW, Honda and Suzuki, do both. Piaggio and Yamaha are motorcycle and scooter manufacturers which may well consider branching out.
To begin with, the SEV needs to be 'networked' to companies, government- and research organizations to build a consortium-type base, to concentrate the joint effort and to 'create ambassadors' to feed the buzz which will make people eagerly await the day the SEV goes on sale.
The very concept (holistic) of the SEV challenges to do things differently - to increase efficiency, reduce costs, lower vehicle weight, improve the quality, etc. Supply chain and assembly may be streamlined, with suppliers even more in a co-maker role. The simpler the concept, the more modular the assembly and the packaging (from basic to luxurious), the less complicated the tooling, servicing and repair, the lower the development costs, and the easier it can be blue-printed for production all over the globe.
For instance, f
ront and rear sections, containing the front and tail lights, can be swapped for easy repair, a partial makeover or to create a different brand look. The SEV has a chocolate Easter egg-like body: a 'skirted' lower half containing all hardware, which is easily accessible because of the curved upper half with its small roof section.
~